LabLynx KB:License key installation
From LIMSWiki
Jump to navigation
Jump to search
Installation process
To properly configure the LabLynx LIMS to use your unique license key follow the steps below: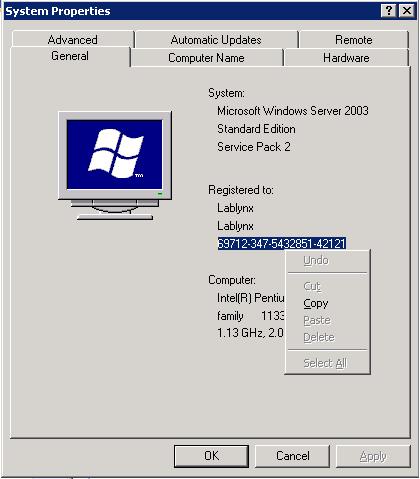 From the web server press the start button
Right click on My Computer and choose Properties
Highlight the License Number seen below and copy it to the clip board.
Email this license key to John Jones at jhjones@lablynx.com. He will send you and encrypted license key back based on the number of concurrent users you purchased.
When you receive your license key from LabLynx log into the LabLynx LIMS using sysadmin / lablynx as the login.
Under the LabLynx Menu navigate to Administration / Configuration Management/ Settings / Current Configuration List.
Filter for a Configuration type where the name contains Concurrent Open Session
Click this item in the list.
After the edit screen loads hit the Copy Button.
In the Command Text box place entire license key provided by LabLynx. (Including any spaces on either side of the number)
Hit save.
You should now have the same number of concurrent sessions you purchased.
Hit done. You have completed this task.