LabLynx Press
From LIMSWiki
Jump to navigation
Jump to search
LabLynx Press
[[Image:|200px|alt=]]


Logo of the LabLynx Press

Abbreviation
LLP
Formation
January 2015
Type
Non-governmental organization
Purpose/focus
Educational
Headquarters
Atlanta, Georgia
Location
United States
President
John H. Jones
Affiliations
LabLynx, Inc.
Website
limsbook.com
The free open access library for the laboratory professional
LabLynx Press, accessed at http://limsbook.com, is a division of LabLynx, Inc., working in partnership with the Laboratory Informatics Institute to provide free, open access resource materials for the laboratory informatics community.
The Laboratory Informatics Institute provides the LIMSwiki facility as an open access, collaborative central information and resource wiki, with LabLynx being one of its largest contributors. LabLynx Press offers a way to extend that functionality into custom book publishing on all kinds of subjects related to laboratory informatics. These include seven major areas of interest:
Applications
In the world of science, health and laboratory informatics, there are countless types of software from numerous vendors that must be evaluated as to (a)whether there is a need for a given type of application (e.g. LIMS/LIS, SDMS, ELN. etc.), and (b) if so, which is most suited for the laboratory's particular needs. LabLynx Press can help by publishing books explaining what each type of application does, what kinds of functions, implementation and pricing can be expected, which vendors and products are available and the like.
Industries
Laboratories come in many forms, ranging from environmental to clinical, to manufacturing QC, to forensic science, to pure research and many, many more.[1] Each type of laboratory has its specific needs and concerns. Books about different types of laboratories can help students learning about a particular area of study, new staff in orienting themselves to a new lab environment, management in comparing their lab to standards or assessing needs, etc.
Technology
Technology is a very important part of laboratory informatics, and an area most science, health and laboratory professionals do not include as central to their qualifications or indeed interests, with their expertise necessarily focused on their particular job functions. Therefore, books addressing issues, trends and currently-employed technologies, as well as those offering education on specific technology subjects that can positively affect community productivity and effectiveness, have a valid role to play in any library used by the community.
Regulations and standards
In any laboratory, the applicable standards and/or regulations are central to the way operations are conducted. LabLynx Press books on these help general understanding and thus more effective compliance. Books offered or planned by LabLynx Press include explanation, history and compliance issues regarding such common standards and regulations as 21 CFR part 11, ISO 17025, ISO 9001, HIPAA, CLIA, ASCLD, CAP, FDA, EPA, ASTM, LII, NELAC/TNI, GxP and others.
Catalogs/Directories
Another category of books that can be useful for the scientific, health and laboratory informatics community is collections of products and services in the form of catalogs or directories. These serve both the providers and the consumers, as they make them known in the community so that choices can be made. Some examples of potential books in this category include:
Application catalogs - LIMS/LIS, SDMS, ELN, LES, CDS, etc.
Instrument catalogs
Informatics services directories
Science, health and laboratory professional directories
Specifications
Informatics application, instrumentation and infrastructure specifications help the end user to assess whether they suit their process needs. Specifications are used in both directions: as an RFI (Request for Information) or RFP (Request for Proposal) to present requirements to potential vendors or service providers, and by the vendors and service providers in describing their products and services. A very important part of the LabLynx Press library is specification collections, or Datasheets.
Course Text Books
The Laboratory Informatics Institute offers many resources to the science, health and laboratory community, including online educational and certification courses. The LabLynx Press publishes text books suitable for study and use in conjunction with these courses and also for general or specific self-study initiatives.
LabLynx Press is a free resource for all members of the laboratory informatics community to use and to provide their own books for others in the community to use.

Publish with LabLynx Press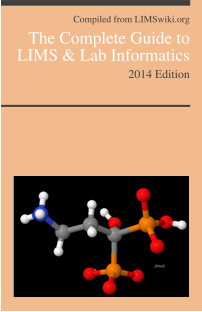 LabLynx Press is dedicated to providing resource materials and topical books for the laboratory informatics community. All members of the community are invited to publish through it. It aims to serve all aspects of the industry, including vendors, consultants, laboratory professionals, academics and any others involved and/or interested in the laboratory informatics community. Contact LabLynx Press to get your book published.
Books are created from LIMSwiki content, so that anyone from the science, health and laboratory community wishing to create and publish their own books may do so. The process is to select any LIMSwiki pages desired for inclusion, and to create any that don't already exist and then select them, and then organize them all by chapters, using the Create a book link in the navigation pane of LIMSwiki. Books may be created in .pdf format and downloaded, and also printed in hardcopy using PediaPress.
Those interested in publishing a book through LabLynx Press can do so, whereupon it can be featured along with its own library of books, including those from other authors and/or editors. In this case, LabLynx Press requires three things: (1) PediaPress URL., (2) pdf version download URL and (3) a synopsis.
Books published through LabLynx Press are featured in various places in the science, health and laboratory informatics Internet community, including LIMSforum, LIMSfinder and others. Additionally, webinars and other promotional events and materials are presented using LabLynx's marketing resources.
Feature of the Week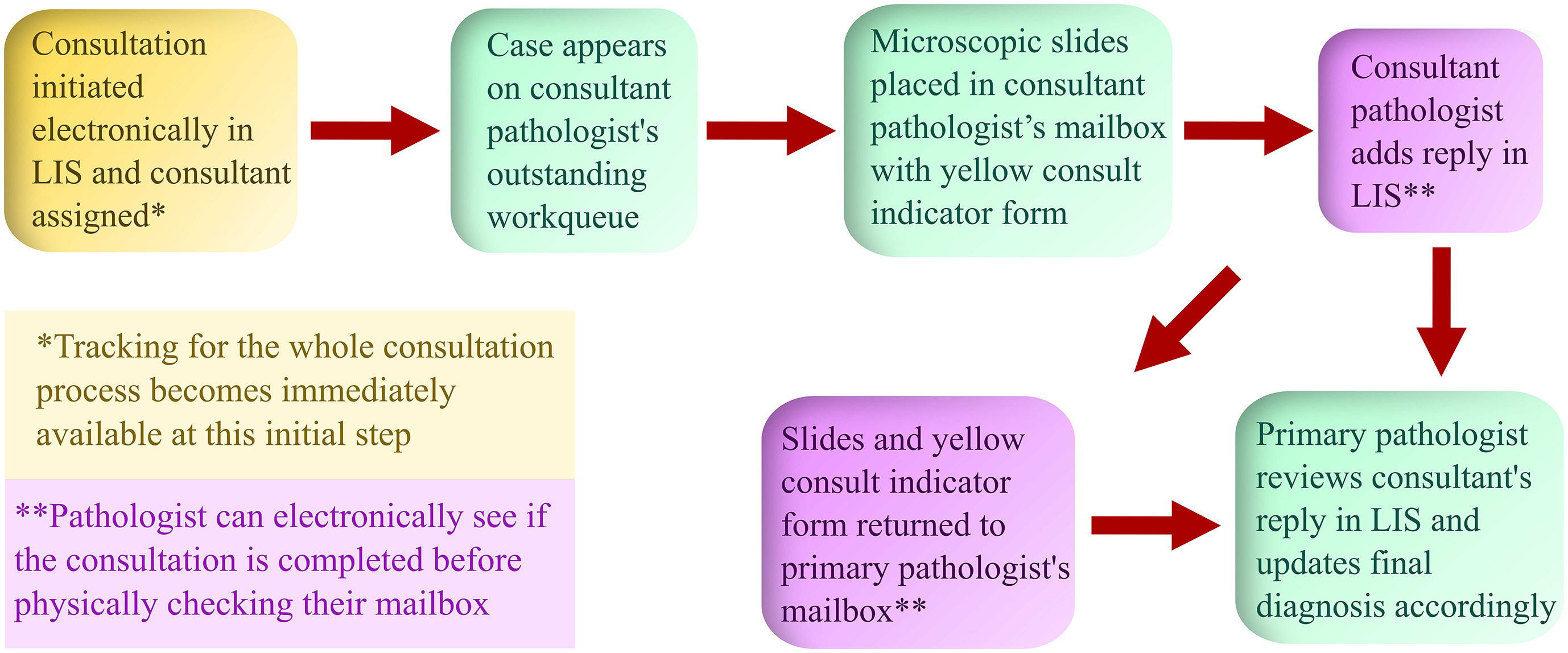 "Anatomic pathology quality assurance: Developing an LIS-based tracking and documentation module for intradepartmental consultations"
An electronic intradepartmental consultation system for anatomic pathology (AP) was conceived and developed in the laboratory information system (LIS) of University of Iowa Hospitals and Clinics in 2019. Previously, all surgical pathology intradepartmental consultative activities were initiated and documented with paper forms, which were circulated with the pertinent microscopic slides and were eventually filed. In this study, we discuss the implementation and utilization of an electronic intradepartmental AP consultation system. Workflows and procedures were developed to organize intradepartmental surgical pathology consultations from the beginning to the end point of the consultative activities entirely using a paperless system that resided in the LIS ... (Full article...)

Recently featured:
References