Main Page
From LIMSWiki
Jump to navigation
Jump to search
Get started

Need help getting started with LIMSwiki? Have no fear! Here are some excellent starting points:
 



LIMSwiki and MediaWiki help:

Featured article of the week

"NIMS-OS: An automation software to implement a closed loop between artificial intelligence and robotic experiments in materials science"

NIMS-OS (NIMS Orchestration System) is a Python library created to realize a closed loop of robotic experiments and artificial intelligence (AI) without human intervention for automated materials exploration. It uses various combinations of modules to operate autonomously. Each module acts as an AI for materials exploration or a controller for a robotic experiments. As AI techniques, Optimization Tools for PHYSics Based on Bayesian Optimization (PHYSBO), BoundLess Objective-free eXploration (BLOX), phase diagram construction (PDC), and random exploration (RE) methods can be used. Moreover, a system called NIMS Automated Robotic Electrochemical Experiments (NAREE) is available as a set of robotic experimental equipment ... (Full article...)
Recently featured:
Guides, white papers, and more

From implementing laboratory informatics solutions to securely working in the cloud, we cover it:
 





ON THE WIKI

:




LIMSwiki books

A

LIMSwiki book

is a collection of LIMSwiki articles that can be easily saved to the wiki, rendered electronically in PDF, or ordered as a printed book. Need to know more about LIMSwiki books?






Open-source software

Looking for open-source software solutions to make your lab or office more efficient? Try these locations:




Additional LIMSwiki resources

We've created several resources for users of the wiki over the years, including the LIMSwiki informatics resource portal, which contains among other tools:



Additional information
Latest news
November 20, 2023: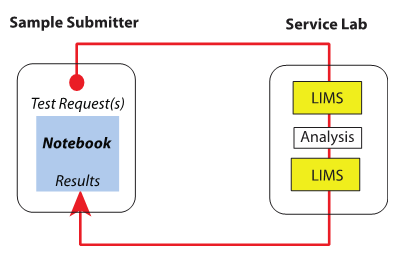 Are you studying some sort of laboratory-based science in university?
How well do your classes address
laboratory informatics
topics, particularly in the scope of industrial labs and how they operate outside of academia? If you find the discussion lacking, then his guide by industry veteran Joe Liscouski will be worth a look. In his guide
A Science Student's Guide to Laboratory Informatics
, Liscouski presents "an annotated map of the laboratory portion of a technological world, identifying critical points of interest and how they relate to one another, while making recommendations for the reader to learn more." Hope you find it useful!
Shawn Douglas
(
talk
) 18:48, 20 November 2023 (UTC)
July 26, 2023:
Do you feel your lab needs laboratory informatics software but you're not sure how to justify it to management?
Then this new guide from Joe Liscouski and Shawn Douglas may be just what you need. Justification for a
laboratory information management system
(LIMS) or some other lab management solution isn't always straightforward with upper management and critical stakeholders; the process will need to be succinct and relevant, based on organizational goals, economic concerns, and practical realities. This guide will help you—whether you are a lab manager, lab technician, or someone else in the organization with a stake in seeing
laboratory
operations improve—understand what a LIMS is, what the alternatives are, what and why acquiring one looks like, and what needs to be considered in putting together a competent and persuasive LIMS project proposal. This guide also includes a handy Microsoft Excel workbook that will help act as a "cheat sheet" for persuading stakeholders to better buy into your vision of LIMS acquisition and deployment within your organization. Enjoy!
Shawn Douglas
(
talk
) 16:32, 26 July 2023 (UTC)